Contemporaneous Processes
Unlike conventional injection molding machines, micro-män performs each processing step – such as the vario-thermal processes, removal, and actual injection – at a separate location. The processes take place simultaneously within different modules, increasing the frequency rate and saving valuable production time.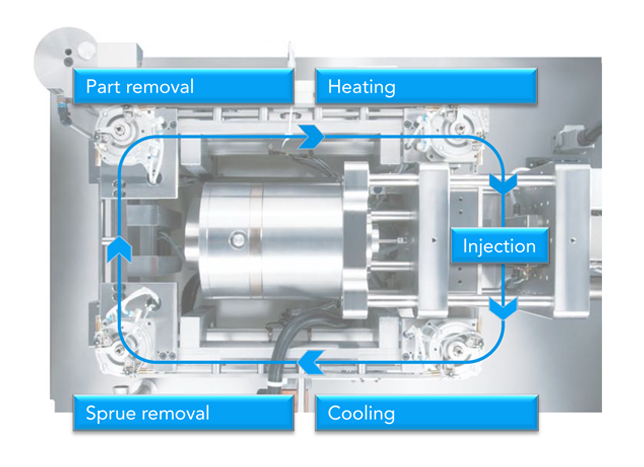 The system allows for easy integration of both upstream and downstream processing steps.
Upstream Process
Injection-Molding Process
Micro injection molding, Family molds
Multicomponents
Sprueless injection molding with hot runner
Downstream Process
Magnetization, Assembly
Separate removal of molded product from cavity
Packaging, Printing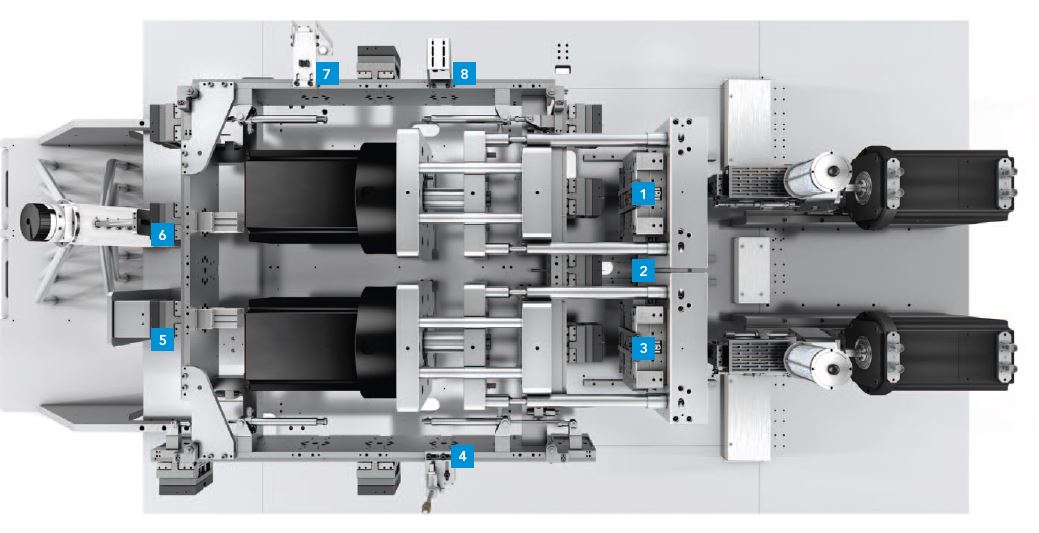 Enjoy all the benefits of the micro-män system – now in a 2-component version. As with the basic model, the 2-component version allows you to integrate a variety of function modules into the track-män transposition unit.
Injection, component 1
PP 250 mm3 per cavity, direct injection using 6-cavity valve gate hot runner system
Cooling
Intermediate station, ambient-air coolling
Injection, component 2
TPE 9 mm3 per cavity, direct injection using 6-cavity valve gate hot runner system
Cooling
Sterile filtration and energy separation of compressed air. A temperature of approximately - 40 ° C is generated without additional energy input.
Ejection of start up, bad and purge parts
Sorting
2 x 6 cavity sorting
Laser sensor
Monitors proper removal of molded product from cavities
Track identification performed using QR code