Thermal Gate Hot Runner Systems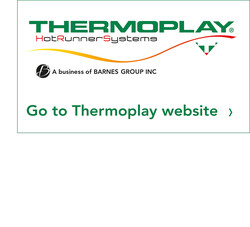 The Thermoplay product range, designed and built exclusively in-house, offers a vast selection of standard and special hot runner systems.
Thermoplay hot runners offer significant process window improvements and an optimized thermal profile, which reduces energy consumption while delivering a high degree of reliability in the injection molding process and consistent part quality.
Bi-color and material moldings can be produced by simultaneously injecting different colors and materials for all types of applications.
Flow analysis is used to customize special hot runner solutions for family molds and other demanding applications.
45 years of expertise in thermal gate systems
Special nozzle heaters
Customizable heaters for dedicated applications
Excellent thermal profile and process stability
Superior high cavitation heat balance
Leak-proof technology
High production capabilities
Wide application range
Wear-resistant
Easy maintenance
Robust DOUBLE sealing on nozzle/cavity
Download Thermoplay Brochure Thermal Gate Hot Runner Systems
Detailed Information on the Product Range you will find here.